Homes in the Statesville, NC market are down from the previous twelve months, according to the statistics of the Charlotte Regional Realtor Association.
Traditional Home Listings, which refer to properties that are not in a foreclosure or short sale situation are down over the last three years. For the listing period of November 2008 through October 2009 the number of homes listed for sale were 652 properties. For the following listing period of November 2009 through October 2010, the number of homes listed decreased by 4.2% to 625. The most recent listing period the number of single family homes for sale in the Statesville NC area were down an additional 12.4% to 547. ( Illustrated in the chart below)
Statesville had 38 Foreclosed homes November 2008 through October 2009. During the following twelve month period from November 2009 through October 2010, the number of foreclosed properties rose an alarming 78.5%. However, things are looking up in the Statesville real estate market, during the November 2010 through October 2011 period, the number of foreclosures have fallen 34.5% to only 44. The market is showing a positive change.
Finally, Short Sales! Yes, that word that describes properties on the market for sale that are pre-foreclosure. A short sale is simply when a bank is willing to accept less for the property than what is owed on the mortgage to avoid having to foreclose on the property. As illustrated below November 2008 through October 2009, we had 35 homes that were listed in this category. The following twelve months from November 2009 through October 2010 , the number of short sales rose 5% to 37. In November 2010 through October 2011, just this previous 12 months short sales dropped 7.5%. Although this number appears to be headed in the right direction, several financial and real estate experts are predicting that over the next 24 months, we will see the number of properties for sale as Short Sales significantly increase.
If you are facing foreclosure, please contact a Short Sale and Foreclosure Resource certified agent at Exit Home Team Realty to assist you in possibly avoiding foreclosure altogether, or just speak with an agent about whether your property may qualify for a short sale. You may reach our office directly at 704-657-5610.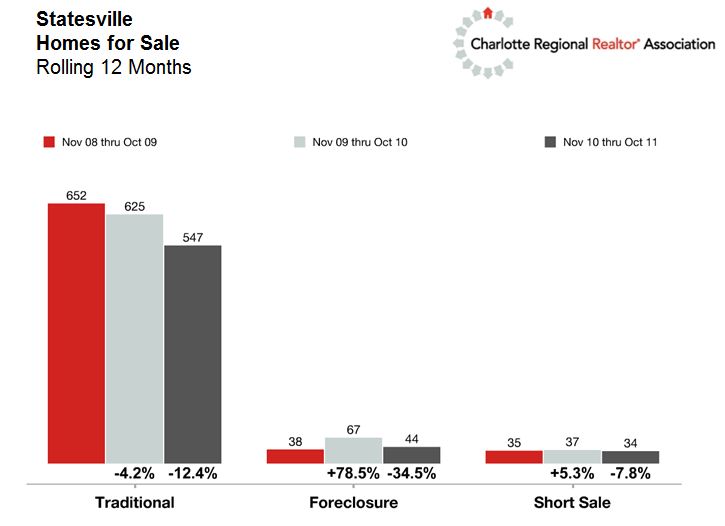 Statesville NC Real Estate - Exit Home Team Realty
Exit Realty Statesville NC is committed to assisting our real estate buyers and sellers in Iredell County, including Mooresville,Statesville, Troutman, Harmony, and Barium Springs. 704-657-5610.